Welcome to Between the Leaves (BtL)

There are clear signs of a very early spring on the east coast, no doubt in contrast to wet and wintry Victoria, Tasmania and SW Western Australia.

If you are observing a precocious early spring in your garden or on your farm, you could take it as a hint to prepare for a late August or September spray-out of both a soil and an atmospheric preparation.

The ideal date for horn manure (500) or Soil Activator should you decide to go early, would be the last week in August (descending Moon 19-31 August), or Moon opp Saturn 4 September.

An ideal date for spraying out horn silica (501) would be 5 September, or maybe you could wait until 2 October, when a spring growth flush will probably be clearly visible.

Here on the Mid North Coast I intend to spray out Soil Activator on the Moon opp Saturn day 8 August, as there's quite a flush of bursting bud and blossom and pasture growth around Bellingen.

If you're new to biodynamics, both preparation horn manure (500) and horn silica (501) are used to improve soil life, activating beneficial bacteria and fungi. Liquid Soil Activator is a prepotentised version of Soil Activator, more powerful than horn manure (500), which does not require any vortical stirring – just dilute and add to sprayer/spray rig.

Blessings to all in this challenging time,

John Hodgkinson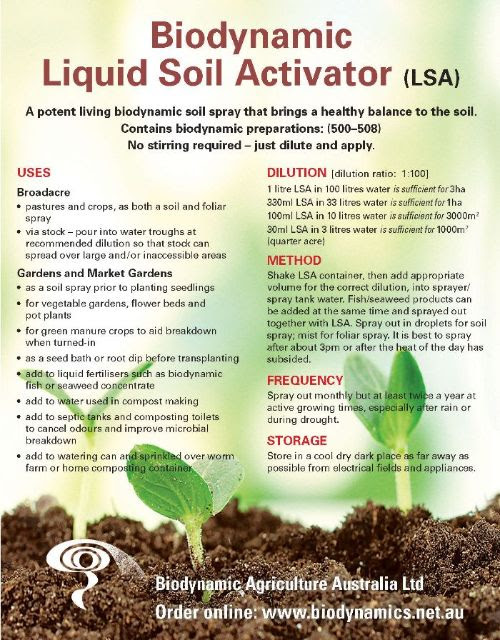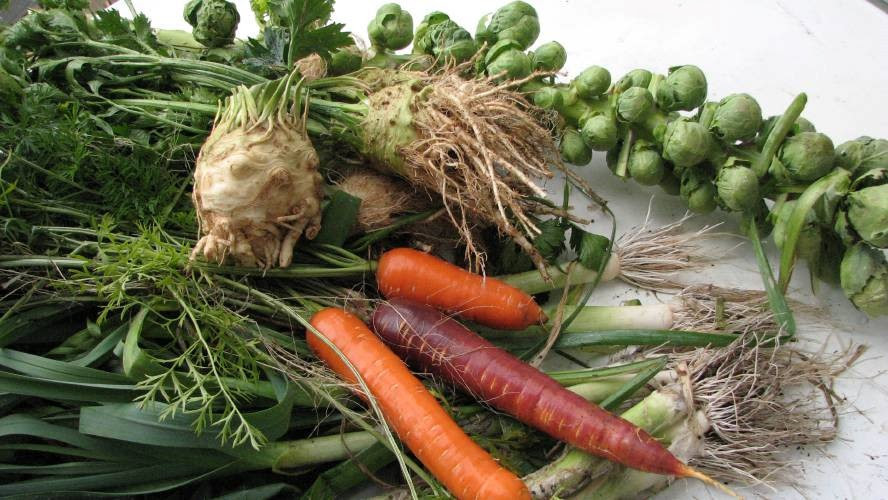 Why eating organic food is important
Henry Homeyer 2.2.21 for the Valley News, with kind permission.
[Organic growers use many biodynamic methods, but not necessarily the preparations or planting by the Moon, Ed.]
I've been growing vegetables organically all my life. I use no chemical fertilizers or pesticides. I don't often think about the reasons I do so, any more than I think about breathing – it's just something I do.
I recently picked up a book written by Maria Rodale called The Organic Manifesto: How Organic Farming Can Heal Our Planet, Feed the World, and Keep Us Safe (Rodale Press, 2010) and it reminded me why I do so. I'd like to share some of the important points with you here.
There has been much controversy about Roundup, and whether it is harmful to humans. Ms. Rodale points out that Roundup cannot be washed off food: it has a surfactant that allows the chemical to penetrate the cell wall. And since corn and soy are used to manufacture many foods from ice cream to baby food and ketchup, it is everywhere. The federal government does not consider Roundup a problem, though many scientists do.
Ms Rodale never once, in this book, criticized conventional chemical farmers. Organic or conventional, she recognized their hard work and a desire to work their land and support their families. She recognizes that transitioning to organic farming takes time, money, and education.
So what can you do? You may not be able to afford to buy nothing but organic food. But you probably can buy your meats from local farmers that do not use the feedlots of the mid-West that feed their cows and pigs antibiotics. And you can get eggs, as I do, from a local teenager that treats his hens well. (Thank you, Ian's Eggs).
For vegetables, you can probably grow some of what you require for vegetables in summer, or buy from a local farm stand. Many farmers are happy to tell you about how they grow their vegetables. The supplier of the local farm stand near me, Edgewater Farm, uses an approach called IPA or Integrated Pest Management. This method encourages farmers to use natural controls, and to use pesticides only when a crop is threatened. They cultivate crops to root out weeds instead of spraying herbicides like Roundup.
But the bottom line is this: the more you grow organically, the better your soil will be. If you use only organic methods, you can avoid many chemicals in your food that might be present in grocery store foods.
In the introduction Eric Schlosser (author of the fabulous book, Fast Food Nation) presented some stark facts: American farmers use 1.2 billion pounds of pesticides each year – 4 pounds for every man, woman and child. Some of these pesticides – the organophosphates – were first developed in Germany in WWII as chemical weapons. The federal government does not require reporting of usage, and testing is done by manufacturers, not the EPA or USDA. Most food has some pesticide residue – except for organic foods, which shouldn't have any.
One of Maria Rodale's reasons for eating only organic food might surprise you: it has to do with climate change. Soils treated with chemicals, including fertilizers, do not have robust populations of microorganisms. Organic soils do. Key among these living beings are the mycorrhizal fungi that coat the roots of plants in organically tended soils. These fungi sequester huge amounts of carbon, taking greenhouse gases out of the atmosphere and holding it the soil. But they are virtually non-existent in soils treated with chemicals. Grow organically? Eat organically? You are helping the environment.
Secondly, irrigation water for commercial agriculture, particularly in the West, uses large quantities of water, depleting aquifers and polluting ground water. When I traveled through the mid-west in the early 2000's I was amazed that supermarkets designated entire aisles to jugs of water – no one wanted to drink from their own wells. And there is a dead zone in the Gulf of Mexico that is bigger than New Jersey caused by agricultural run-off of chemicals from conventional fields.
Children are particularly vulnerable to chemicals used in commercial farming. Rates of childhood cancers, asthma, diabetes, autism and other debilitating conditions continue to increase. Ms. Rodale attributes (with copious footnotes to scientific studies) many of these changes to the chemicals children consume. As she says, "Cheap food equals high health care costs."
The "organic" label on food also means that no genetically modified organisms were used in producing your food. Back in 2010 when Rodale wrote the book, 91% of all soybeans and 95% of all corn produced in America was genetically modified to be tolerant of a weed killer called glyphosate, sold under the trade name, "Roundup".
I recognize that I cannot change the world with what I do. But I have learned to grow plenty of vegetables, and to keep them for eating out-of-season. So think about a bigger vegetable garden this summer, and I will tell you about how to put food up for next winter when the time comes.
You may reach Henry at henry.homeyer@comcast.net or PO Box 364, Cornish Flat, NH 03746. Henry's book, Organic Gardening (not just) in the Northeast: A Hands-On, Month-by-Month Guide has been re-printed and is now available from him for $19, including shipping.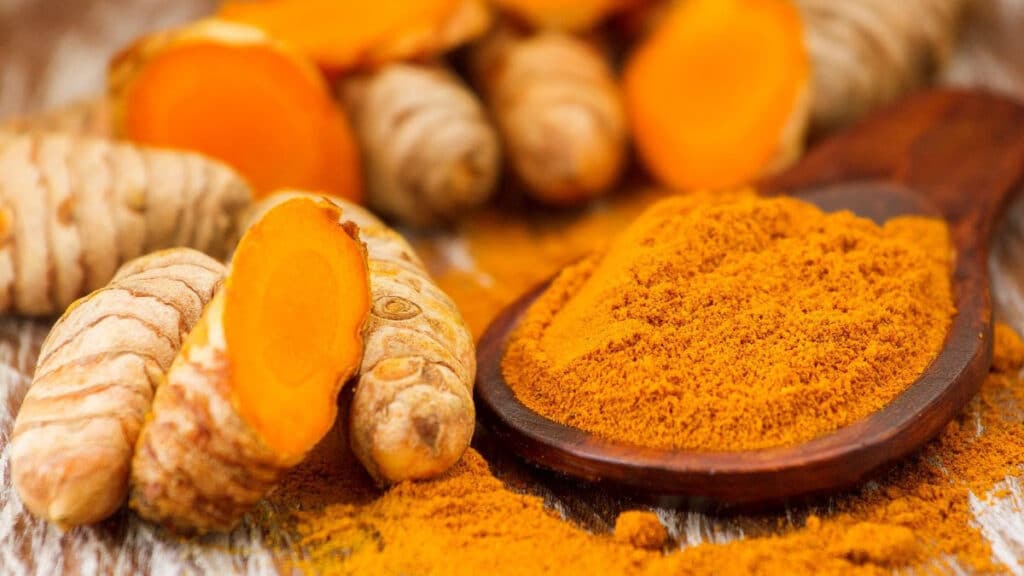 Turmeric and Vitamin C to the rescue?
John Hodgkinson

(Thanks to Dr Christos Miliotis for the link below)

There is an urgent need for therapeutics in tackling the serious and all-too-often deadly effects of COVID19, particularly its inflammatory pathways which can lead to acute respiratory distress (ARDS) – lung edema – lung fibrosis, and long COVID.

Curcumin is a compound occurring in the rhizome of the turmeric plant. It is widely recognised as a powerful anti-inflammatory, anticancer and antioxidant compound. However, when activated in water – as in cooking – its bioactivity is limited, due to rapid metabolism in the gut and liver.

Oil infusion of curcumin – again as in cooking – and the addition of ginger and pepper, is regarded as the means to greatly enhance the efficacy of curcumin as both a preventive and treatment.

The News Medical Life Sciences article by Dr Liji Thomas at the link below reviews a new study into the potential for curcumin to treat COVID19 using nanotechnology.

On a similar note, Vitamin C as an immune system regulator, powerful antioxidant and inflammatory regulator is under intense study around COVID19 infection and ARDS.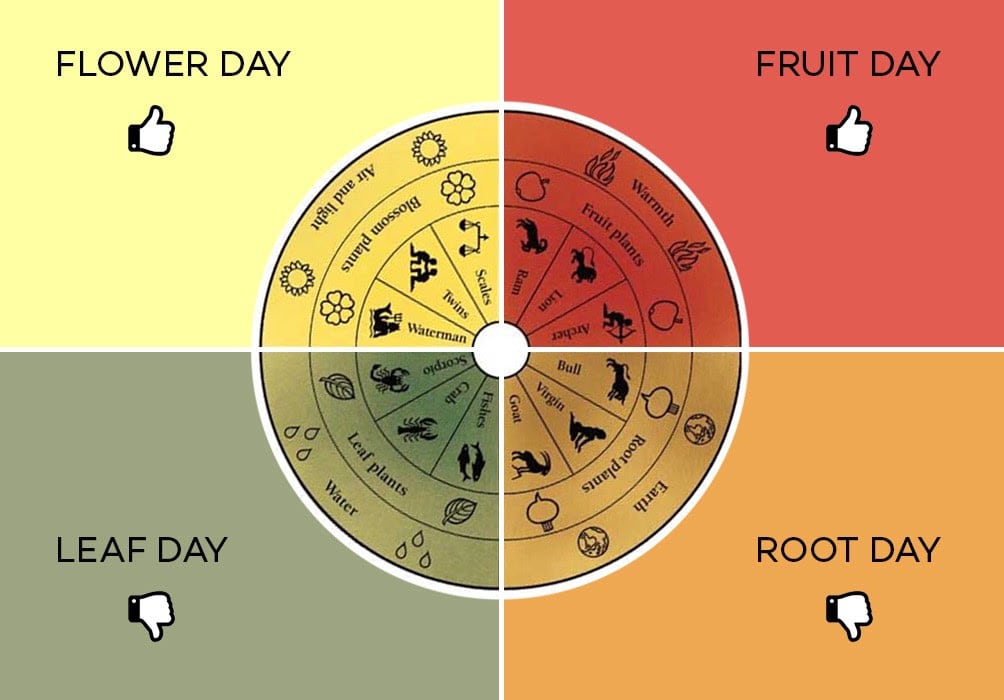 Seasonal dates and planting
It is with much regret we must cancel the below workshops due to the COVID-19 developments up and down the coast. We apologise for any inconvenience this may cause.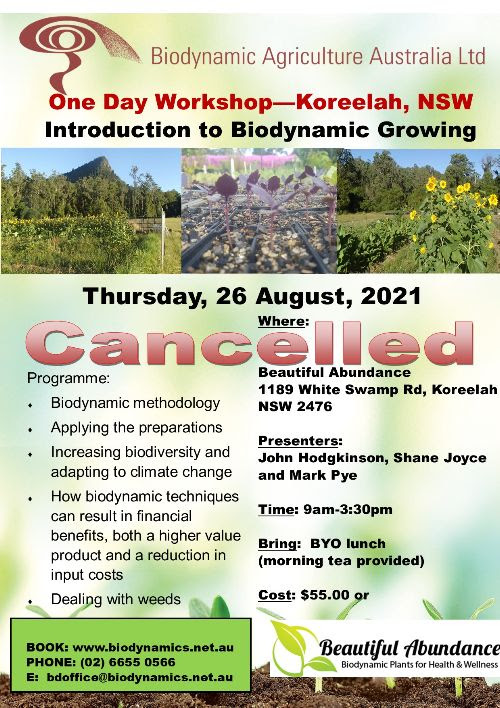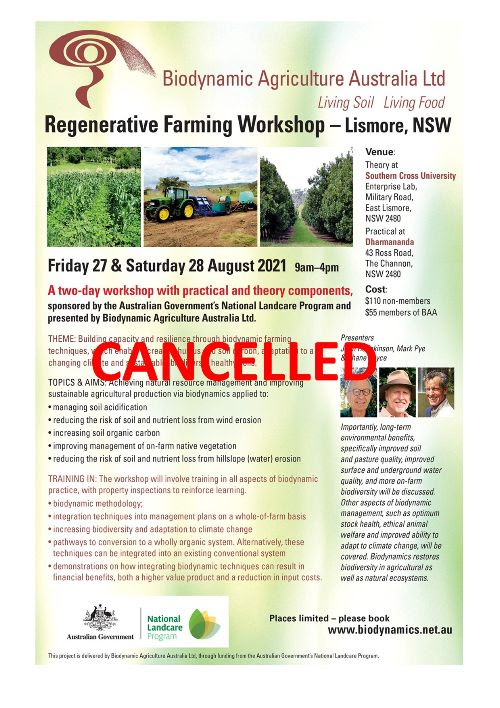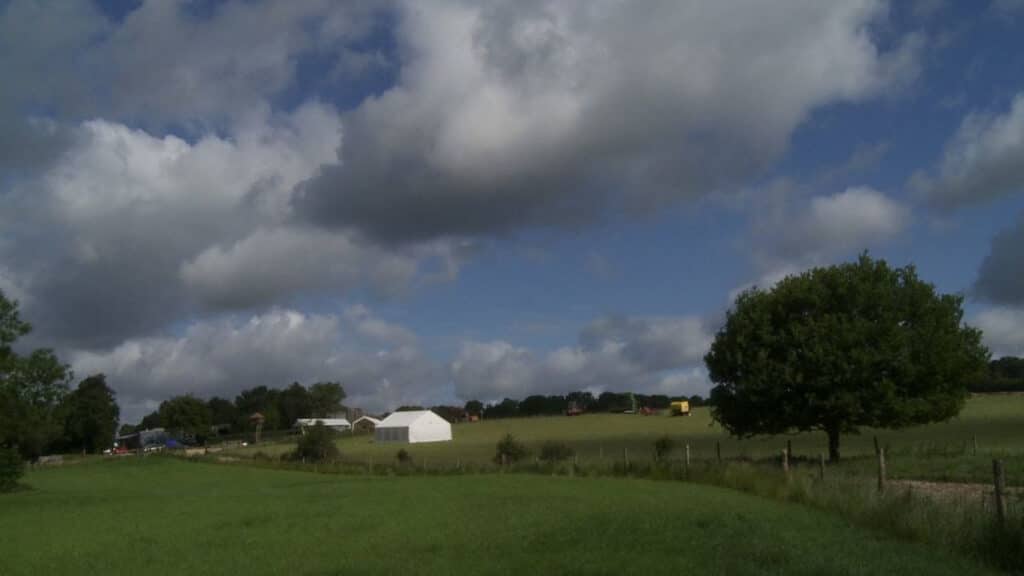 Long-term biodynamic farming opportunity
Tablehurst Farm in Forest Row, East Sussex has been established as a biodynamic community farm for 25 years. The farm incorporates beef cattle, a small dairy herd, sheep, pigs, poultry, arable crops, a large vegetable garden and some woodland. The farm and garden together employ a team of around ten people. We sell most of our produce direct through our own farm shop.
We are currently looking for an experienced farmer to join the team and help to carry our initiative over the next decade or more. Our ideal candidate would have:
At least five years' farming experience

Practical experience of regenerative farming

Experience of biodynamic farming, or at least a willingness to embrace this approach

The ability to carry one or more enterprises with minimal supervision
Farming is our core activity and purpose at Tablehurst, but we also run a busy farm shop, a café, a food processing operation and a small care home for three adults with learning disabilities. Engaging with our local community and teaching people about farming and food are really important to us, so we run a busy programme of community events, we engage a lot with volunteers, and we have an education programme for children at the farm. We are looking for farmers who would welcome the opportunity to be a part of all these things.
The majority of our farm team live on the farm, and accommodation is available on site for the right candidate. We also provide our farm staff with two meals a day.
If you are interested in these opportunities, please email Chris Marshall, our Managing Director, expressing your interest and providing some information about yourself and your experience. Please put "Farmer vacancy" in the subject line. We are looking for candidates who are available immediately but would also be interested to hear from you if your timescale is any time up to the end of 2021.

E:   Chris.Marshall@tablehurstfarm.org.uk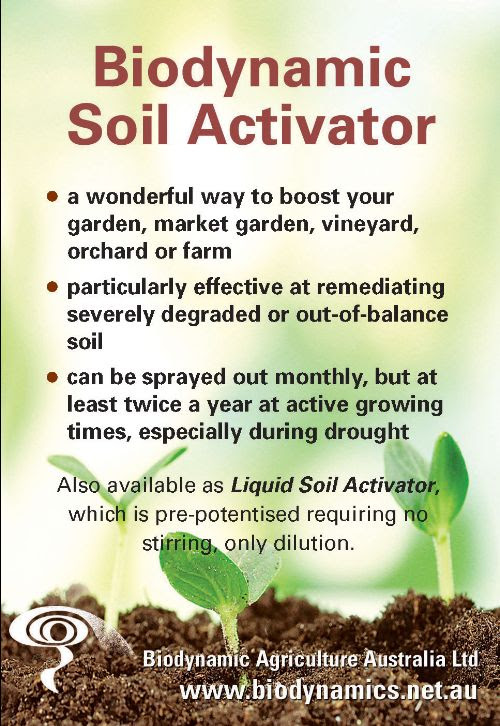 Spring is in the air and Biodynamic Soil Activator will help you enliven your soil
Frequent use of biodynamic preparations will ensure resilience in your farm or garden and help recovery after intense environmental events such as flooding rains, heat waves and bushfires. When starting out it takes time to create well developed biodynamic soils.  We recommend spraying out the preparations at least four times in the first year to get the biodynamic impulse working in the garden and on the farm. The minimum recommended number of applications of the biodynamic soil and atmospheric preparations is twice per year – in autumn and in spring around the equinoxes.

Would you like Tree Paste with that? Now is the time to cut back fruit trees and apply Tree Paste for protection and extra nutrition.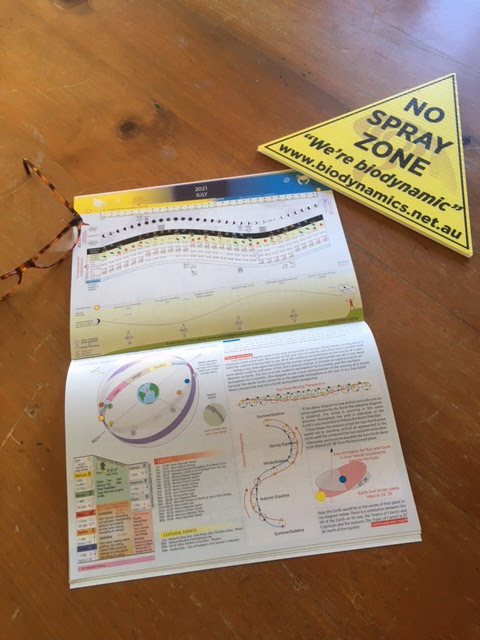 We may be a little more than halfway through the year but the Astro Calendar is still of great value, giving you the heads up on when to plant. Working with the Antipodean Astro Calendar is one of the least understood aspects of biodynamic agriculture and is the emphasis on astronomical events of the sun, moon and planets against the constellations.

The Astro Calendar 2021 is full of beneficial information and is now selling at half price for  $25. To get your copy click on the below link. 

Click here to order your copy today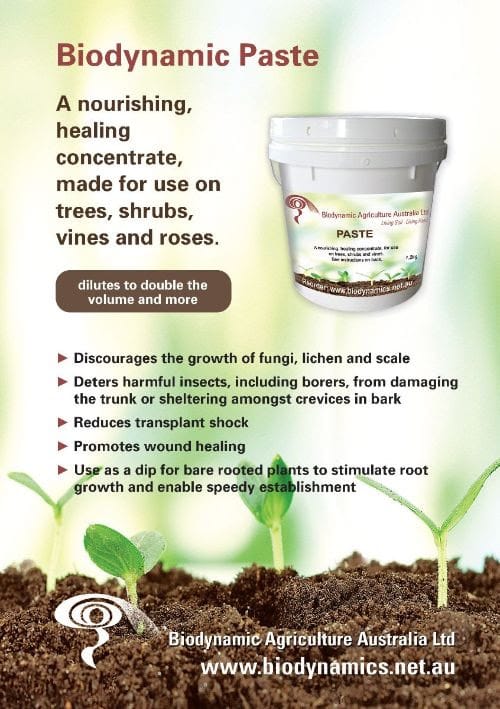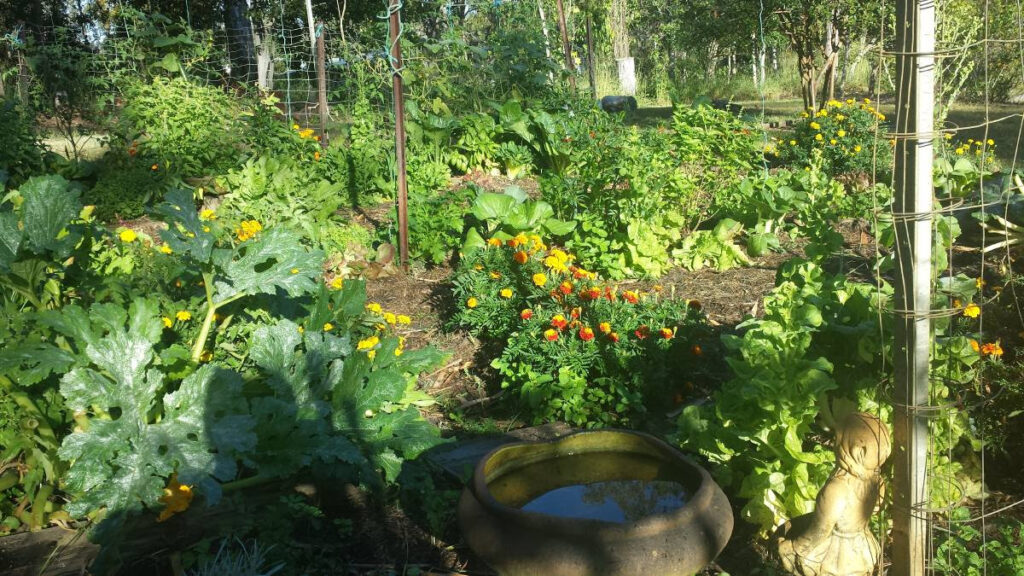 Thanks for reading our BtL and hope you found it interesting and useful.
BtL is a very small example of our quarterly News Leaf which is a glossy hardcover coloured  journal. It's full of biodynamic information, research and stories for your inspiration.
News Leaf  is mailed to members. Are you a member? If not, why not take the next step and delve deeper into the beneficial world of biodynamics.  We may be a small organisation but we have a big vision, starting from the ground up.
As a member you receive:
ongoing support when needed (simply ring or email)
access to preparations, products and workshops
a quarterly News Leaf  journal full of fabulous articles and inspiration
Biodynamic Handbook
a sample of Biodynamic Soil Activator with instructions
The next News Leaf comes out in Spring, early September 2021 so you have plenty of time to come on board. Also if your membership is about to lapse it's easy to renew.
Your membership helps support our not-for-profit organisation in practicing, promoting and sharing everything biodynamic, while we support you towards creating optimal soil health and growing highly nutritious and delicious food.
Between the Leaves, the monthly newsletter from Biodynamic Agriculture Australia