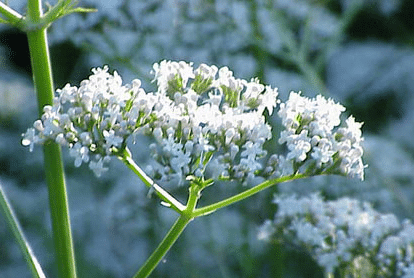 John Hodgkinson
Lately, I have found myself preoccupied with the Valerian preparation. Its stimulation of phosphorus availability in the sprayed environment is most intriguing, the Valerian flowers themselves being devoid of elemental phosphorus!
Valerian (507) is made by mashing Valerian flowers, preferably in a mortar and pestle, then diluting 40:1 with water, letting settle for a few days, then bottling without any air under the lid or stopper. Storage should be in a cool and dark place. The extract can be kept thus without loss of viability for at least three years
This aqueous extract is used at the further dilution of 5ml to 5 litres of water (compost, garden plants and soil) or 10ml in 34 litres of water per hectare of crops, notably grapes.
In every type of use, the solution should be vortically stirred for at least 10 minutes before being sprayed out.
Here is a summary of the various ways in which 507 can be used:
• sprayed over a new compost heap, freshly made manure concentrate, or just begun liquid manure (This was not indicated by Steiner, but 507 may form a virtual membrane enclosing the compost preparations 502 – 506 to simulate an "organism", the individual preparations being the "organs".)
• sprayed onto finished compost, manure concentrate or liquid manure to kick-start a powerful phosphorus gesture which greatly enhances plant growth and soil food web organisms and processes (This was clearly indicated by Steiner but ignored until relatively recently.)
• sprayed over crops to guard against unseasonal frosts, by raising nighttime temperatures by up to 4 degrees C.
• sprayed out over gardens to stimulate flowering, especially initiating flowering in "reluctant" plants such as cacti, and to stimulate earthworm breeding. The 40:1 dilution applies here.
(Go to kakteen-niess.at for a full explanation.)
The Valerian preparation is thus a wonderful elixir and remedy for garden and farm.
Fortunately, Biodynamic Agriculture Australia has for the first time managed to source a significant amount of 507, made in Australia, and it is now ready for sale.