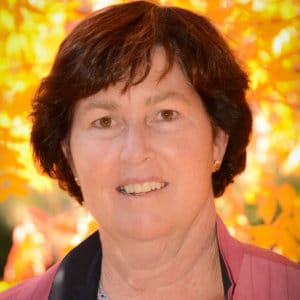 I am a partner of a 1400ha ACO certified organic/biodynamic property in Peak Hill, NSW. With my husband Ray, I run a mixed farming broadacre enterprise growing merino sheep, wool fat lambs, poll Hereford cattle and cereal grains and hay. We have been members of BAA for 20 years (Ray was Chairman 2010-2014). We began applying biodynamic principles to our property in 1997 to create a living, thriving and healthy environment for our family animals and crops.
Furthering my knowledge in plant production I completed a Diploma in Organic Agriculture focusing on soil fertility and an intensive permaculture course through Milkwood. Along with a lifetime love of growing native trees, fruit, vegetables and eggs I strive to live a lifestyle of self-sufficiency, environmental responsibility and living sustainably.
As a retired high school teacher and principal I have experience in various executive roles in educational settings, agricultural groups and within my local community. I believe I can bring a sense of purpose, a lifetime of experience, practical knowledge of farming and gardening, technological competence and the ability to work as part of a team within the BAA to foster the educational role of promoting the principles of biodynamics.