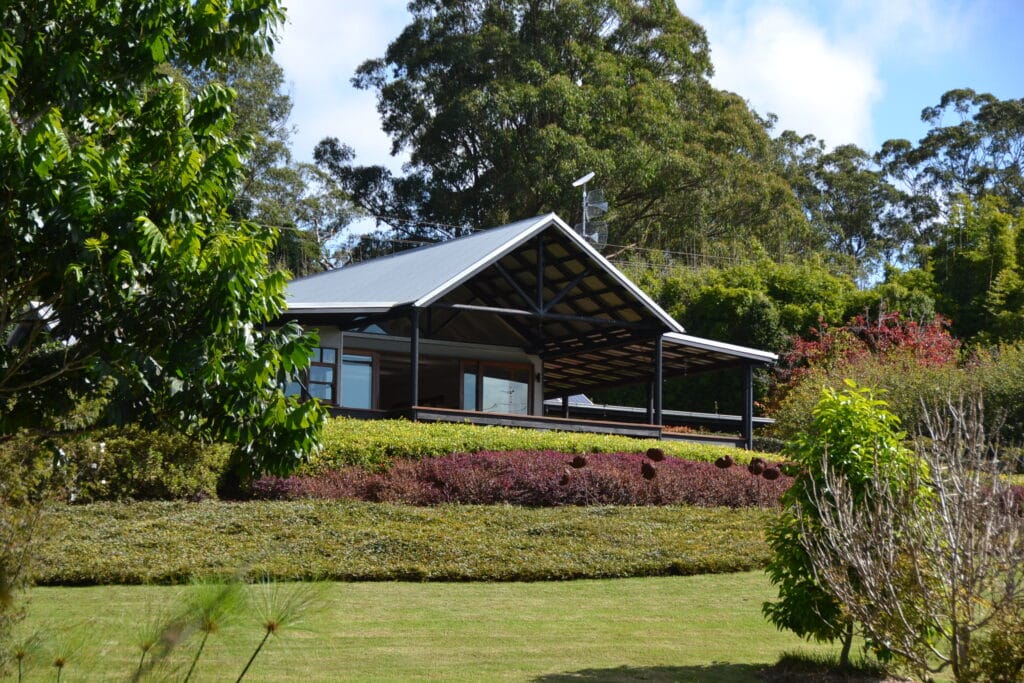 John Hodgkinson
On the 4th of May 2022, three staff members of Biodynamic Agriculture Australia, Mark, Kaz and John, ventured into the upper Brisbane River Valley to conduct a one-day Introduction to Biodynamics workshop on "Emaho Trees", Ravensbourne.
This property, owned by Barbara and James McGeogh is a tree farm with a difference. In this case, they grow Australian native trees (and camellias – their speciality) to varying stages of advancement in rich red basalt soil… in the ground. After varying years of growth, they are carefully dug up and then transported to new homes Australia-wide. Their operation was featured on the ABC's Landline on 3 Feb 2022, which was when our interest was piqued, resulting in a request to have Barbara and James host a workshop.
Emaho is Tibetan for wonderful, amazing, and is an apt name for the extensive gardens and commercial treescape. Unaccustomed to seeing a sort of linear savannah, I was intrigued by the amazing array of often rare and wonderful species, as well as their careful husbandry, their vigour, and the expert lengths to which James and his team go in the removal and root ball protection/wrapping during the "harvest"!
Barbara is a long-standing member of BAA and at this property, she particularly appreciates the power of Biodynamic Paste to nurture trees, help pruning scars to heal, and repair bark injuries. During our pre-departure tour the next day, James pointed out a tree which had suffered extensive wounding – now fully healed (see pic).
About a dozen people attended our workshop and were treated not only to amazement and wonder at the surroundings but to the impressive health and colour of the trees and ornamentals in the well-established homestead gardens. Needless to say, they also received a goodly presentation of biodynamics from Mark and myself.
On our after-lunch workshop tour, we were particularly impressed with Barbara's raised and netted vegetable beds, plus the culinary and medicinal herbs growing in the open. The form and vigour of all her plants are a credit to her species selection, care and attention to detail.
We are extremely grateful to Barbara and James for their generous hospitality and conviviality over two days staying in their home.
It never fails to impress me how old dairy farms get new leases of life in modern-day repurposing. It is satisfying to see that Emaho Trees, while catering for the "high end" nursery market, observes strong ethical values and also keeps its eye on the biodynamic ball.
We hope that our workshop put out some good vibes for all the tree elemental beings who are essentially on tenterhooks pending their relocation to new homes with goodness knows what strange and urban surroundings.